Zaur Aliyev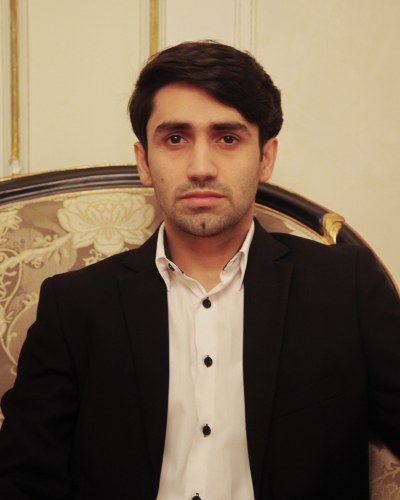 Aliyev Zaur (son of Mubariz) was born on January 21, 1991 in Baku. In 1998-2009, he studied at secondary school No. 109, Nizami district, Baku city. He served in the army in 2009-2011. In 2011-2015, he studied at the "Directing" faculty of the Azerbaijan State University of Culture and Arts. In 2012, he started working at "Baku Folklore Theater" under the Department of Culture of Baku city.
Since 2013, he has started working at the Azerbaijan State Academic Musical Theater at the invitation of Aligismat Lalayev, Honored Art Figure. In 2015, when he was studying at the university, he staged his graduation play "Suraya" at the YUĞ theater. On the stage of the Zaur Aliyev Academic Musical Theater, Pen ("Peter Pan and Wendy" - J. Barrie, Brothers Grimm, directed by A. Sadigov), Dwarf ("Adventures of the Dwarf" - based on the motifs of the Azerbaijani folk tale "Dwarf"), Pinocchio (Pinocchio - A. Rybnikov, A. Tolstoy, trans. N. Kazimov), The Priest's Assistant ("Dedication to Paris Notre-Dame" - V. Hugo, staged by S. Gulamov), Woodpecker ("The forest cannot be without jackals" - A. Samadli) , Maid ("Psych" - M. Cervantes), Mirhamid ("Bakhtiyar" - T. Guliyev, B. Laskin, N. Rojkov), Muhammadali ("My mother's book" - J. Mammadguluzadeh), Boy ("Magic song" - A. Morozov), played the roles of Romulo ("I, my grandmother, Iliko and Ilarion" - N. Dumbadze).
He also performed a number of roles in the plays "Nadir Shah", "Banana Peel" on the stage of the Azerbaijan State Academic National Drama Theater, "Madagascar" and "Mowgli" at the Azerbaijan State Young Audience Theater, and "Novbahar" at the SSS Cultural Center. In addition to theater performances, he also created various characters in a number of films and TV series, such as monkey in the movie "Hogga" (2016), friend in the movie "Sharab (Wine)" (2018), Elchin in the TV series "Father's Hearth".
Zaur Aliyev's play "44" was awarded the 2nd place in the "4.4 Short Plays Festival" in 2021. Also, "Light Man", which he shot on the subject of war, was chosen as the best video by the Ministry of Culture. At the Azerbaijan Film Academy, he prepared a pantomime play called "Silence" with speech-impaired youth. He also participates in the preparation of a number of plays as a director and director's assistant at the Academic Musical Theater.
The management of the theater recommends Aliyev Zaur to become a member of the Union of Theater Workers of Azerbaijan