Nigar Garayeva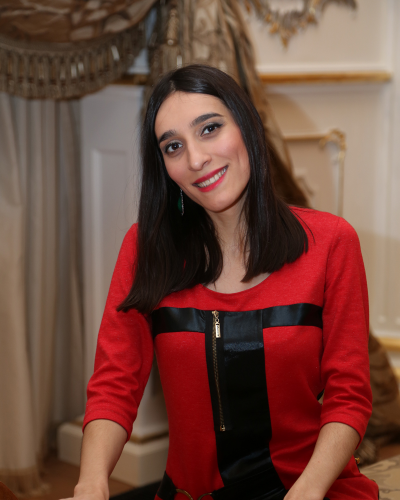 Nigar Garayeva, daughter of Tofig Garayev, was born in the Aghdam district in 1983. From 2002 to 2006, she studied at the "Musical Theater Acting" faculty of the Azerbaijan State University of Culture and Arts. In 2008, she was employed at the Azerbaijan State Academic Musical Theater.
Nigar Garayeva worked at the Azerbaijan State Academic Musical Theater as an actress during which she played various roles such as ("Everybody's own star" S. Alasgarov, I. Malikzade), Producer ("The Devil's Jubilee" O. Rajabov, A. Babayev), Sarfinaz ("American Groom" R. Mirishli, M. Hagverdiyev ), Maid ("www.ferzeli-kef.com" E. Sabitoglu, J. Mammadov), Sugra ("Baladadash's wedding bath" F. Allahverdi, Elchin), Komsomol secretary ("Five manat bride" S. Rustamov, M.S. Ordubadi ), Red Hat ("Red Hat" E. Sabitoglu, Y. Schwartz), Kabla Gubad's Girl ("Husband and Wife" U. Hajibayli), Mimans Choir Artist ("Mourning March or Clear Your Eyes" M. Mammadov) Red Hat ("Winter Holiday" A. Soltan), Zahra ("Bakhtiyar" T. Guliyev, B. Laskin and N. Rojkov)
The theater management recommends Nigar Garayeva for membership in the Azerbaijan Theater Workers Union.