Abdullayeva Gulnara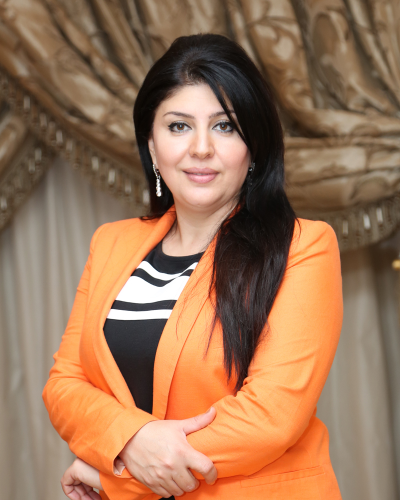 Abdullayeva Gulnara – daughter of Baba was born on December 29, 1973 in Baku. She graduated from the Azerbaijan State Theater of Culture and Art "Musical Theater Acting" faculty in 1996. While still a student she played in the role of "Mehri" at "I want to marry" by R.Icherisherli and as a main character at "Cylinder" by E.Defilippo at the Azerbaijan State Estrada Theater, She worked as an actress-vocalist at the State Musical Drama Theater of Shusha from 2008 to 2008. She has played in "Fairy and Magic" by E. Hagverdiyev, "Failing hearth" by N.B. Vazirov, "Crane" by S.Rustam, "Scream of monuments" by H.Miralamov on the stage of Shusha Dram Thathre.
Since April 2013 she has been working as a vocal actress-soloist at the Azerbaijan State Musical Theater. She has played in various performances on different styles in the theater. She was "Natella" at "Jealous Hearts" by Ramiz Mirishli, Marat Hagverdiyev, "Zuzu" at "Gold Wedding" by Oktay Kazimov, R Haydar, "Sona" at "When fates come together" by R.Hajiyev, "Sanam" at "If not that one then this one" by U.Hajibayli, "Naz-naz Khanum" at "Whereas I am old, I am worth to thousand young" by F. Sujaddinov, T. Valiyeva, " Samaya" at "Banker Fiancé" by E.Sabitoghlu, T.Valiyeva, "Fairy Fauna" at "Sleeping Beauty and Seven Dwarves" by A Sadigov, Sh. Pero, "She goat" at "Naughty Craps" by O. Zulfugarov and R.Heydar, "Aghabaji" at "Baladadash' s bath wedding" by F.Allahverdi, Elchin, "Fatma" at "999th night" by F. Amirov, "Fatma, Tamanna" at "Molla Nasraddin's five spouses" by I. Sadigov, "Older Girl" at "A day before wedding" by A.Samedli, "Zohra" at "Nuri –dide Jeyhun" by A.Amirli.
Beside theatre spectacles she has also starred in feature films and serials. "Sughra" at "I believe in you", "Spouse of the lawyer" at "Police Department", "Teacher" at "Handful of land", "Woman" at "Area", "Manager of Guest House" at "At the train", "Masma" at "Secret", "Prisoner" at "Breath of Jackal", "Businesswoman" at "Lie", "Natavan" at "The joy of a village", "Mother" at "Shade of Nightmare", "Kubra" at "To the bottom", "Secretary" at "White Life", "Charwoman" at "Brother-in-Law", "Doctor" at "For the sake of law", "Gulsure" at "The merry widows" . She also participates in the peformances of "The Guys from Baku".
The actress is married has 2 children.