Emin Aliyev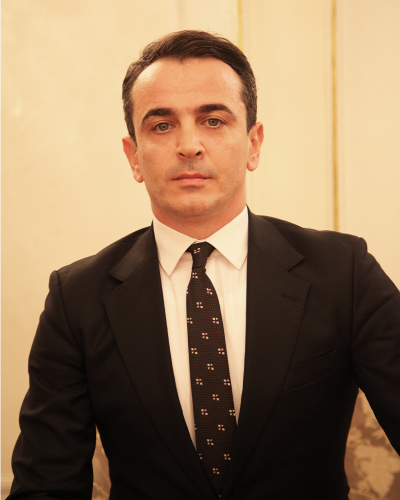 Aliyev Emin, son of Eldar, was born on May 5, 1978, in Baku. He graduated from the Baku Choreographic Academy (1990-2001). From 1996 to 2015, he was a soloist of the Azerbaijan State Dance Ensemble. In 2004, he was known for his work with the "Nuri" image in the ballet "Love and Death" by People's Artist Polad Bulbuloglu and performed at various cultural centers of Azerbaijan and the Russian Theater, St. Petersburg Marinski Theater. And in 2017, he was invited to the Royal Dance Ensemble and Turkish Anatolian Fire dance ensemble in 2004-2006, where he worked for a while and played the various dance and ballet performances. He has participated in international events in more than 50 countries around the world. In 2008 he was awarded the title "Honored artist" by order of the President. As a talented dancer and choreographer, he has successfully performed ballet compositions in various cultural events and festivals in many Russian cities since 2012. He has taught master classes both in our country and around the world. In honor of the 90th anniversary of the Academy of Choreography, he set up a dance performance based on the motifs of Niyazi's "Rast" symphony and "Kitabi Dada Gorgud" epic. In July 2019, he successfully performed at the traditional Dede Gorgud festival in Bayburt, Turkey, with the Academic Musical Theater. Soloist of Azerbaijan State Academic Theater of Music, International Festival Laureate, and Honored Artist: Emin Aliyev has awarded the Shams National Award for his Nasimi promo video by Imedia Group.
The brilliant victories of our glorious army on the battlefield also contributed to the creativity of Emin Aliyev. The project "Victorious Soldier", of which he is a founding choreographer and performer, was met with interest by both TV viewers and social network viewers.
In addition, he will soon present the composition "Yellow Bride" (choreographer and performer Emin Aliyev) to a wide audience. It should be noted that the author and artistic director of both projects is the director of the theater, Honored Art Figure Aligismat Lalayev, the is director Samir Gulamov, cameraman and editor is Hikmet Shahverdizade.
The artistic director of the ballet-composition is the Director of the Academic Musical Theater, Honored Artist, Doctor of Philosophy in Art, Aligismat Lalayev, the chief Director is Samir Gulamov, the producer-director and installer is Hikmat Shahverdizadeh.
He is currently a soloist at "A dedication to Paris Notre Dame" (by V. Hugo) directed by Gulamov, at the Azerbaijan State Academic Musical Theater, which is now having its 110th season. He continues his career in the Musical Theater.