Vagif Mastanov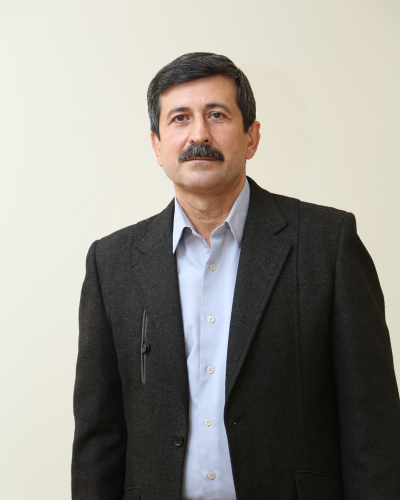 Mastanov Vagif, son of Teyyub, was born on May 9, 1955. Vagif Mastanov, a follower of his father's art, also dedicated his life to music. After graduating from the art school named after F. Amirov, he entered the violin class of the Baku Music College named after A. Zeynalli in 1970. In 1974-1978, he began his military service in the Concert Ensemble of the Red Flag Caspian Flotilla. After completing his military service, in 1978-1983, he continued his education in the classes of Nijat Malikov and Zarifa Ismaylova at the choir conducting faculty of the Azerbaijan State Conservatory named after Uzeyir Hajibayli.
In 1978-1990 he worked in the Azerbaijan State Choir Chapel under the direction of the famous Azerbaijani choirmaster E. Novruzov. While studying at the conservatory, he began working as a choirmaster. During these years, he worked as the leader of the Baku city teachers' choir, Baku State University student choir, and other amateur choirs.
He has been choirmaster of "Bride for 5 pounds" (Said Rustamov, Mammad Said Ordubadi), "Filumena Marturano" (Faraj Garayev, Eduardo De Filippo), "Memorial Prayer" (M. Gluza, G. Karin), "Aunt Masma is my uncle" (Ramiz Mustafayev, Jahangir Mammadov), "Red Hat" (Emin Sabitoghlu, Y.Shvarch), "Laughing is forbidden" (Rafig Samandar), "Young at fifty years old" (Z.Hajibayov), "It is our matter" (Suleyman Alasgarov, Shikhali Gurbanov), "Gold Wedding" (Oktay Kazimov, Ramiz Heydar), "Everyone has his own star" (S.Alasgarov, I.Malikzadeh), "Rose" ( Sultan Hajibeyov, Maharram Alizadeh), "Fun with the thousand dollars" (Emin Sabitoghlu, Jahangir Mammadov), "Once upon a time In Baghdad" (Emin Sabitoghlu, Vladimir Kalmanovski), "The Gypsy Band Leader", "The Gypsy Princess" and "Countess Maritza" (E.Kalman), "The Merry Widow" (Franz Lehar), "Mad Gasskonet" (Gara Garayev), "If not that one then this one" (U.Hajibayli), "Goodbye" (Emin Sabitoghlu, Rufat Ahmadzade), "My cheerful heart" (Emin Sabitoglu, Khalida Hasilova), "Love on the stage" (Sardar Farajov, Ali Amirli), "Temporary pleasure marriage" (Sardar Farajov, Rashad Nuri Guntakin), "Banker Fiancé" (E.Sabitoghlu, T.Valiyeva), "When Fates comes together" (Rauf Hajiyev, Faig Zohrabov), "Love game" (J.Guliyev,
G. Rasulov), If you get your share call your uncle" (V.Adigozalov, Anar), "The Yankee Princess" (E.Kalman), "Arshin Mal Alan", "Husband and wife"( U.Hajibayov), "www.ferzeli-kef.com" and "Fun with Ten thousand Dollars" (Emin Sabitoghlu, Jahangir Mammadov), "Kimyager" (S.Karimli, E.Ol) and also became choirmaster of the performances which were held for 200 years anniversary of M.F. Akhundov.
Since 1990, Vagif Mastanov has been working as a chief choirmaster at the Azerbaijan State Academic Musical Theater. Under his leadership, many members of the Academic Musical Theater Choir later continued their activities in various theaters. Soloist of the Azerbaijan State Academic Opera and Ballet Theater Honored Artists - Ilham Nazarov, Tural Agasiyev, as well as the soloist of the Moscow Helicon Opera Theater Elnara Mammadova are among them. During his years in the theater, he worked several times as an orchestra conductor and musical director of performances.
Vagif Mastanov is the author of several works of the choir, a cappella, some of which are included in the repertoire of professional and amateur choirs. In 2013 he was awarded the badge of "Honorary Cultural Worker," in 2015, he was awarded the honorary title of "Honored Artist."
The role of his father Gasim was significant in the carrier of Vagif Mastanov. The vocalist, who has a beautiful lyrical baritone voice, learned from Bulbul, worked in the first in the choir of the Opera and Ballet Theater, and then in the choir of the famous Russian choir N.V. Under Romanovsky's leadership. He is also the holder of Russia's Sergei Radonezhsky (2013) and Daniil Moskovskiy (2019) orders.