Irada Gozelova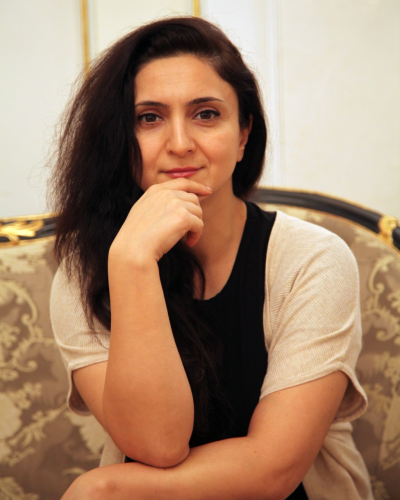 Gozalova Irada, (daughter of Vagif), was born on May 25, 1982, in Baku. She received her education at the Azerbaijan State University of Culture and Arts, Faculty of Theatre Directing, from 2000 to 2005. From 2009 to 2011, she completed her master's degree in Theatre Directing at the Moscow Art Theatre School named after A.P. Chekhov, near the Moscow Art Theatre. She later gained experience at the "Royal Court" theatre in London and the Russian State Academic Drama Theatre in Saint Petersburg. From 2000 to 2007, she worked at the Azerbaijan State Youth Theatre as an actress.

From 2007 to 2009, she worked as a director at the "YUĞ" Theatre. From 2014 to 2021, she worked at the Azerbaijan State Ganja Drama Theatre as the chief director. Since 2022, she has been the founding director of the Azerbaijan State Academic Musical Theatre.
In 2017, she was awarded the honorary title of "Honored Cultural Worker" by the Ministry of Culture. In the same year, she received the President's Award in 2020 and again in 2023.
Irada is the founding director for several productions in the Musical Theatre, including "Who is Guilty?" (based on the work of Ə.Haqverdiyev), "My Sin" (based on the work of İ.Afandiyev), "999th Night" (based on "1001 Nights"), "Lara Martin's Jazz Club" (based on A.Ostrovsky's play "A Girl without a Dowry"), and "My Mother's Book" (based on the work of Jalil Mammadguluzadeh).
As a talented director who has won numerous international competitions, in 2023, Irada's creativity captivated the attention of foreign theater experts at the 2nd 4.4 International Theatre Festival held at the Musical Theatre. She was honored with an award for the performance "My Mother's Book".