Adelin Ozturk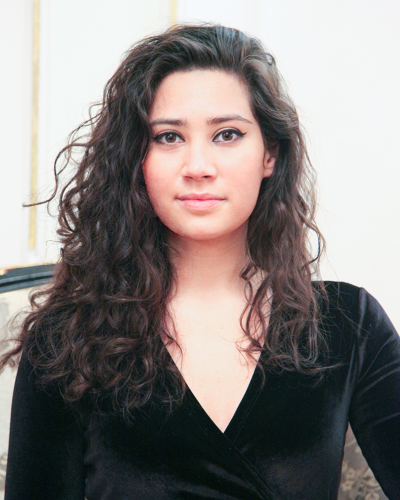 Adelin (daughter of Ahmet) Ozturk was born in 1999 in Baku. In 2005-2012, She studied piano at the secondary music school operating under the Cultural Center of SSC. In 2006-2010, she studied at secondary school No. 46. She graduated from Baku-Turkish Anatolian High School in 2010-2013, Avni Akyol Fine Arts High School in 2013-2017, majoring in music.
In 2019-2023, she studied at Uzeyir Hajibeyli Baku Music Academy in the department of "Solo singing and Opera preparation".
A. Öztürk, who started studying in the class of People's Artist Fidan Gasimova, later successfully completed the class of Honored Artist Ilham Nazarov. In 2020, she was awarded the 3rd place in the "Russian Alboradasi" vocal competition.
She participated in the master class of the famous Italian professor Vincenzo De Vivo, within the framework of the "Baroque Days" International Music Festival
who was the head of the San Carlo and Rome Opera Theaters. In 2021, she performed at the "Vocal Music Evening" within the VIII International Music Festival named after Uzeyir Hajibeyli.
Since 2022, she has been working as a soloist of the Azerbaijan State Academic Musical Theater.
The actress played "Natavan" in the operetta "Caucasian niece" (R. Hajiyev), "Rabbit" in the fairy-tale play "Golden Chick" (V. Ulyanovsk and V. Orlov), Rabbit in "The Red Hat" (E. Sabitoglu, Y. Schwartz), she also created the character of "Gulyabani" in "Magical Music" (D. Hajiyeva, P. Korotich) and acted as a translator in "Trust my song" (P. Bulbuloghlu).
Adelin Ozturk actively participates in state events and various concert programs