Almaz Alasgarli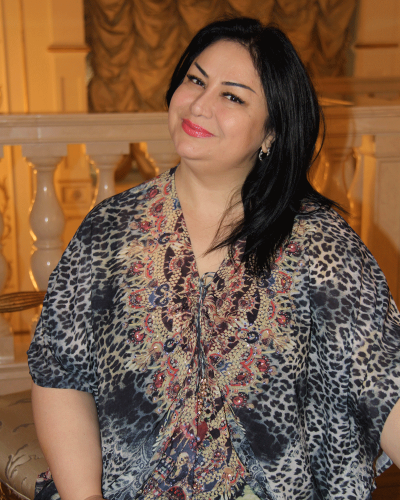 Alasgarova Almaz, daughter of Ramiz, was born on October 6, 1966, in Baku and studied at the Faculty of Musical Comedy at the Azerbaijan State Institute of Art in 1985-1990. In 1987-1988 she worked as a soloist at the Azerbaijan State Musical Comedy Theater (now Azerbaijan State Academic Musical Theater). In 1985 she was awarded the diploma of the "Baku's autumn 85" Singers Competition, and in 1998 she became a laureate of the "Baku's autumn 88" Artistes Contest. Later, in 1988-1995, she worked as a vocal artist at the Theater of Music named after R. Bahbudov. During those years, she represented Azerbaijan's musical culture in various parts of the world with outstanding, USSR People's Artist, Rashid Bahbudov. In 1999, she took the first place at the festival "Oştun azem tündörü" in Osh, Kyrgyzstan.
In 2000, she was awarded the "Best Female Singer of the Year," an independent national award "Best of the Best 2000" for her contribution to the development of the musical culture of Azerbaijan. In 2012-2016 she was engaged in pedagogical activities at Azerbaijan State University of Culture and Art. Since 2016 she has been working in the Musical Theater as a vocal artist-soloist. On the stage of the Musical Theater, she revived the image of "Tunzala" at "American -son-in Law" (R.Mirishli, M.Hagverdiyev), "Aunt Jahan" at "Arshin mal alan" (U.Hajibayli), "Sanam" at "If not that one then this one" (U.Hajibayli), "Shafiga" at "Baladadash's bath wedding" (Elchin).
In 2007 she was awarded the title "Honored Actress" of the Republic of Azerbaijan for her contribution to the development of national music, culture, by the relevant decree of the President of the Republic of Azerbaijan.