The premiere of the play "Leyli and Majnun" will take place at the Azerbaijan State Academic Musical Theater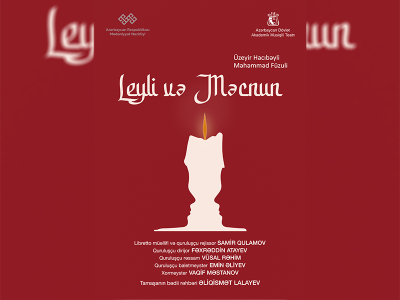 On October 24th, at 19:00, a performance based on the motifs of the mugham opera "Leyli and Majnun" by the brilliant composer Uzeyir Hajibeyli and the poem "Leyli and Majnun" by the great thinker Muhammad Fuzuli, prepared under the direction of director Samir Gulamov with a libretto by Samir Gulamov, will have its premiere.
While the classic work, which cuts through deep philosophical meanings, retains its originality based on the new directorial approach, it is not only a milestone in the history of the Musical Theater but also a first in the history of Azerbaijani theater.
The artistic leaders of the performance are the Honored Artist of Azerbaijan, holder of the Philosophy Doctorate, Academician of Fine Arts, and Aligismat Lalayev. The founder conductor, Honored Artist of Fine Arts, Fakhraddin Atayev, the founder painter, Vusal Rahim, the choreographer, Honored Artist, Vagif Mastanov, the advisor on mugham performance, People's Artist, Sakina Ismayilova, the solo tar performers, Honored Artist Elkhan Mansurov, and the young performers, Sakhavat Mammadov and Jahid Alizade. The concertmaster is Fidan Aliyeva, and the assistant directors are the Presidential Awardee Emrah Dadashov and Sevinj Mammadova.
Ilaha Rustamova, the winner of the 7th Mugham Television Competition, will play the role of Leyli, and Orkhan Huseynli, the winner of national and international mugham competitions, will portray Majnun.
Emin Aliyev, the Honored Artist, who is also the founder choreographer, brings the character of Majnun's soul to life. His counterpart, the performer of Leyli's soul, is the theater's ballet artist Irana Karimova.
The performance also features the Honored Artist Nadir Khasiyev, Presidential Awardees Samadzadeh Khasiyev and Emrah Dadashov, along with artists Gulnara Abdullayeva, Tarana Aliyeva, Bajikhanum Sadigova, Ibrahim Alizade, Emin Zeynalli, Ali Karimov, Murad Aliyev, Boyukhanum Mammadova, Mirzahra Muradova, Aydan Aliyeva, as well as members of the theater's choir and ballet ensemble.