The actors of the Musical Theater successfully participated in another international event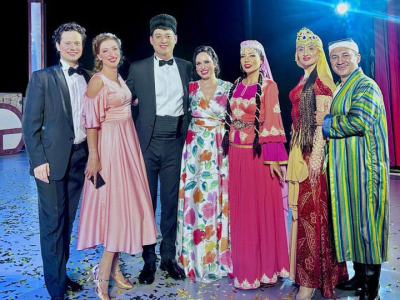 The talented soloists of the Azerbaijan State Academic Musical Theater, Aydan Huseynova and Emin Zeynalli, participated in the final concert of the "DosStar" XII Open Operetta and Musical Festival held in Karaganda, Kazakhstan. They performed pieces from the theater's repertoire, including "Arshin mal alan" (U.Hajibeyli) and "Paris Notr-Dame Dedication" (V.Hugo, directed and staged by S.Gulamov). The organizers of the event expressed special thanks to both the performers for their highly professional performance on stage and to the leadership of the Musical Theater.
It should be noted that in addition to this festival, the ensemble of the Musical Theater also participated in several other international events in September.
The renowned actor and Honored Artist of the theater, Shovgi Huseynov, who was invited to the XXVII "Belaya Veja" International Theater Festival in the Republic of Belarus, presented his solo performance of "The Shameful Girl" (F. Dostoyevsky, directed and staged by C. Salimova) there.
Actors Nicat Ali and Narmin Aliyeva participated in master classes by experienced instructors from the Russian State Institute of Performing Arts (GITIS) at the "TeART-Kokshe - 2023" International Theater Festival held in Kazakhstan.
On the other hand, Eleonora Mustafayeva represented our country with dignity both at the festive ceremony in Tashkent on the occasion of Uzbekistan's Independence Day and at the XXIV Turkic World Opera Days organized in the Fergana province in connection with the 30th anniversary of TÜRKSOY.
The actors returned with positive impressions from the events they participated.