The actress of the Musical Theater participated in TURKSOY's Opera Days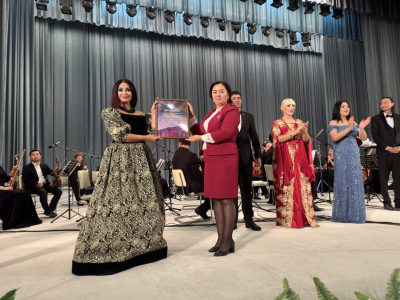 The talented actress of the Azerbaijani State Academic Musical Theatre, Eleonora Mustafayeva, participated in the XXIV Turkic World Opera Days held in the Fergana province of Uzbekistan in connection with the 30th anniversary of the International Organization of Turkic Culture (TÜRKSOY).
Under the accompaniment of the national symphonic orchestra of the Uzbekistan State Philharmonic (conducted by Alibey Kabdurakhmanov), the actress performed the song "Azərbaycan elləri" (Valleys of Azerbaijan) by Fikrat Amirov, as well as works of world classics.
In addition to Eleonora, the only representative from Azerbaijan at the Opera Days, opera stars from the Turkic world including Venera Alpysbayeva (Kazakhstan), Nematillo Zikrullayev (Kazakhstan), Atahan Aybek Uulu (Kyrgyzstan), Shirin Mamatova (Uzbekistan), Rovshan Bayramov (Turkmenistan), Ayshe Beril El (Turkey), Hevva Ozdemirag (Turkey), and Damirak Monchushun (Tuva R.F.) were also warmly welcomed for their performances.
The vocalists were awarded with TÜRKSOY diplomas for their active participation in the event.