The Collective of the Musical Theater Successfully Performed in Sheki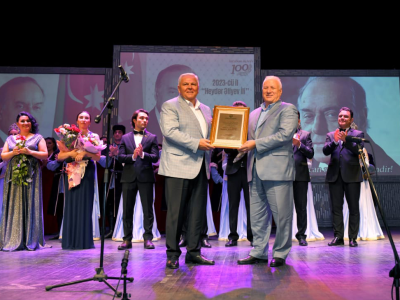 The Azerbaijan State Academic Musical Theater, with the support of the Ministry of Culture, presented the musical-historical essay "You Are Such a Peak!" in Sheki on the occasion of the 100th anniversary of the national leader Haydar Aliyev and the 150th anniversary of the creation of the Azerbaijani professional national theater.
In this project, which took place at the Sheki State Drama Theater, the cherished memory of the great leader was respectfully remembered, and the life and activities of the genius personality were examined.
The audience warmly received the theater's soloists, Honored Artists Farid Aliyev, Said Sharifaliyeva, President's Prizewinners Mehriban Zaliyeva, Samadzade Khasiyev, actors Aydan Huseynova, Hidayat Aliyev, Shaban Jafarov, Turkel Tarigpeyma, Emin Zeynalli, as well as the captivating performances by the members of the theater's choir and ballet ensemble.
At the end of the event, the head of Sheki City Executive Authority, Elkhan Usubov, gave a speech, awarded the artistic director of the performance and the director of the theater, Honored Art Figure Aligismat Lalayev, with an accolade, and expressed gratitude to everyone who contributed to the success of the event.
The script author of the performance is Honored Artist Mubariz Hamidov, the founding director is Javid Imamverdiyev, the founding conductor is Honored Art Worker Fakhraddin Atayev, the choirmaster is Honored Artist Vagif Mastanov, the ballet master is Honored Artist Emin Aliyev, and the director's assistant is Afar Tagiyev.
It is worth noting that with this performance, the creative team of the Musical Theater also went on a tour in the city of Ganja.