Academic Musical Theater will open its 113th season in Shusha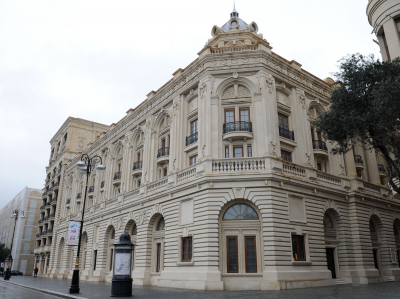 From September 18 to 24, the XIV Uzeyir Hajibeyli International Music Festival will be held in our country under the organization of the Ministry of Culture of the Republic of Azerbaijan.
The Azerbaijan State Academic Musical Theater also participates with great success within the framework of the annual traditional festival.
This time, for the first time in the history of the theater, the opening of the season will be in the city of Shusha. This time, the works of genius Uzeyir Hajibeyli will be realized in the project "Music Spreading from Glass to the World".
It should be noted that in connection with the declaration of 2022 as the "Year of Shusha" in our country by the relevant Decree of President Ilham Aliyev, the Musical Theater has implemented a series of projects in the last season as well.
Under the open sky in Shusha, pieces from the musical comedies of the genius composer "Arshin Mal Alan", "Husband and Wife", "If not that one then this one" will be played.People's artist Ilham Namig Kamal, Honored artists Naida Orujova, Nargiz Karimova, Azizaga Azizov, Alakbar Aliyev, Akbar Alizade, Shovgi Huseynov, actors Farid Aliyev, Guljahan Salamova, Ulviya Aliyeva, Aydan Hasanova, Mehriban Zaliyeva, Samadzade Khasiyev, Huseyn Alili, Alimammad Novruzov, Ruslan Mursalov and others will present.
The Musical Theater will present the play "If not that one then this one" on September 22 in Ganja as part of the international festival.
The performances of the theater will start from September 24.