This is how the Academic Musical Theater started its new season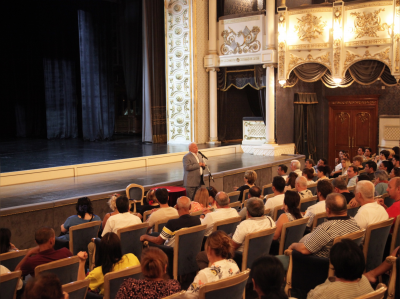 In connection with the beginning of the 113th theater season, a large-scale meeting of the collective was held at the Azerbaijan State Academic Musical Theater.
Aligismat Lalayev, the director of the art center, Honored artist, Doctor of Philosophy, opened the event. He congratulated the team on the occasion of the new season and wished creative team success.
In addition to listing the work done in the last season, A. Lalayev also spoke about the upcoming tasks: "The 112th season of the Musical Theater was remembered by many significant events. For the first time in the history of the theater, the premiere of seven stage works was presented. Our creative staff participated in events held in our republic, as well as in a number of international competitions and festivals organized in different countries. The audience met each of their performances with great sympathy and enthusiasm. The great importance given to Azerbaijani theater art outside the borders of the country, the good attitude towards our collective also inspires us to implement new projects. Academic Musical Theater represented our country at the 40th "Fajr" International Theater Festival held in Iran, the "Friendship' Wreath" International Art Festival in Belarus, and later at the "Ostrovsky - FEST" International Theater Festival organized in Russia, in addition to these, in Kattakurgan, Samarkand Province, Uzbekistan Mutual relations have been established with the Drama Theater.
The mutual exchange of experience with the theaters of different countries creates a new ground for participation in the next festivals. We have interesting projects one after another this season. I wish that the contribution of the Musical Theater to the theater history of Azerbaijan will continue."
At the event, the repertoire plan of the theater for the next 4 months was approved, and at the same time, detailed information was given about new performances and next tours.