People's artist was a guest of Mardakan Palace of Culture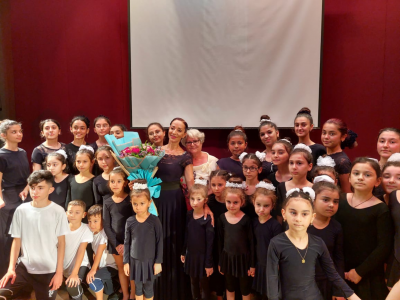 A meeting was held with the People's Artist of the Republic of Azerbaijan, vice-rector of the Baku Choreography Academy, associate professor Tarana Muradova within the framework of the "We have a guest" project at the Mardakan Palace of Culture under the organization of the Baku City General Department of Culture.
The participants greeted their favorite dancer with bunches of flowers.
The presenter of the event, the actress of the Academic Musical Theater, Gultac Alili, gave interesting and extensive information to the audience about the life and work of the People's Artist.
Tarana Muradova expressed her gratitude to the main organizer of the event, the Baku City General Department of Culture, and everyone who came to the meeting.

In addition to giving a master class to young dancers engaged in the art of choreography at the Palace of Culture, the well-known dancer also answered the questions of his beloved audience who adored his art. Ulvi Jafarov, director of the Mardakan Palace of Culture, shared his impressions with us about the meeting and spoke about the importance of such meetings:
"The life and creativity of the master dancer, the great propagator of our national culture, who demonstrated the Azerbaijani national dance art all over the world with great love and success, is a worthy example for every young person engaged in this art. Therefore, we are more pleased that young people are especially active in the event. Within the framework of this project of the Baku City General Department of Culture, we plan to hold such meetings with Azerbaijan's beloved stage master, Honored People's Artist Afag Bashirgizi, leading stage masters of the Azerbaijan State Academic Musical Theater, Honored artist, President's prizewinner Nargiz Karimova, Honored artist Farid Aliyev. These meetings help to form aesthetic taste in young people, to expand their worldview, especially to guide those who want to engage in art, and create conditions for our young people to use their free time effectively."