People's artist will be a guest of Mardakan Palace of Culture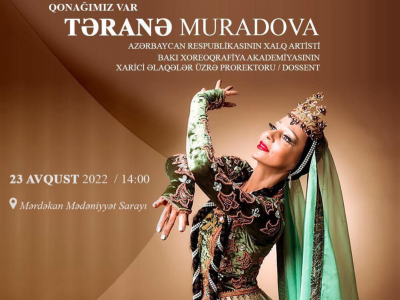 On August 23, at 14:00, a meeting will be held with the People's Artist of the Republic of Azerbaijan, vice-rector of the Academy of Choreography, associate professor Tarana Muradova in the Mardakan Palace of Culture under the organization of the Baku City Culture Department.
At the event, the People's Artist will give a master class to young dancers engaged in the art of choreography in the Palace of Culture, as well as meet with her beloved audience who adore her art. The master dancer, who has demonstrated Azerbaijan's national dance art with great love and success all over the world, and is a great propagator of our national culture, will also answer questions about her life and creativity.
Note that the event is open to #media representatives