Martyr mothers in the Academic Musical Theater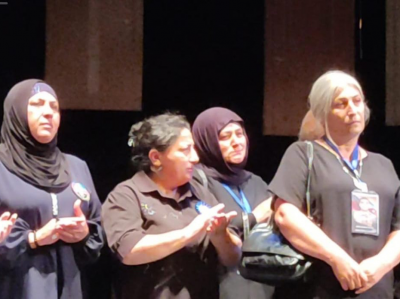 The mothers of the martyrs visited the Azerbaijan State Academic Musical Theater within the framework of the "My son is a hero" project organized by the head of "Fire Land Production" Jalal Gurbanov. They watched the performance "One breath until the end" based on the play of the director Samir Gulamov. This play, dedicated to the martyrs and veterans who are our source of pride, the mothers of the martyrs who became the main face of our victory, was highly appreciated by everyone. At the end of the play, the mothers of the martyrs were invited to the stage. They thanked Academic Musical Theater and management of "Fire Land Production" for the attention and care shown on behalf of all martyred mothers. Each martyr's mother who gave a speech emphasized that the performance was quite natural and expressed gratitude to the producer, director, cast, especially the performer of the character of the martyr's mother.
The audience greeted the speeches of the martyred mothers and the "Khudayar classification" performed by the actors with continuous applause and tears.
I should note that the idea author and artistic director of this stage production based on the music of People's Artist of the USSR Fikret Amirov is Aligismat Lalayev, Honored Art Figure, Doctor of Philosophy.
Honored artist Nahida Orujova, actors Gulnara Abdullayeva, Guljahan Salamova, Amrah Dadashov, Ibrahim Alizade, Nazrin Ismayilzade, Samadzade Khasiyev, Ofelia Mammadova, Hidayat Aliyev, Ali Karimov and Murad Aliyev participated in the 10th showing of the play.
Fakhraddin Atayev is the main conductor of the performance; Samad Suleymanli is the conductor; the set designer is Vusal Rahim; the choreographer is Leyla Aghayeva; the concertmaster is Kamil Hasanov; the director assistants are Sevinj Mammadova and Amrah Dadashov.
The piece also uses the piano music of the young pianist Kamil Hasanov, a recipient of the Presidential scholarship.