"Unknown Stairs" was greeted with applause at the Academic Musical Theater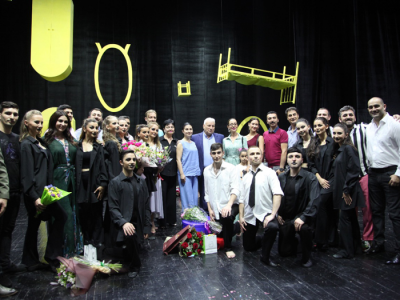 The premiere of the ballet performance "Unknown Staircase" was held at the Azerbaijan State Academic Musical Theater within the framework of the "Parade of Premieres" festival.
The performance, attended by well-known ballet artists, theater actors, and art masters of the country, was sold out. The plot line and artistic design of the play, intended as a propaganda tool against drug addiction, aroused interest in the audience.
It should be noted that the performer of the main role andproduction director of the performance is the ballet master, the young ballet artist Mahammad Abdullayev; the production director is Samir Gulamov, and the production designer is Vusal Rahim.
Honored artist Viktoriya Shahmuradova played the main female role in the play, while Roman Krasnov and Muhammad Abdullayev played the solo parts. Aynura Asgarova, Rabiya Aliyeva, Roya Mehralizade, Elvira Azizova, Anna Jabbarova, Ilona Sementsova, Aygul Hasanova, Irane Karimova, Kamran Hasanov and Yagub Bahramov performed in public scenes.
The music in the performance were used from foreign composers and Honored Artist Sevda Alekbarzade. Thecomposition of poems is belong to the People's Poet Ramiz Rovshan and was performed by Samir Gulamov.
The audience greeted the creative team with continuous applause and presented them with bouquets of flowers.