The employee of the Musical Theater passed through the battlefields proudly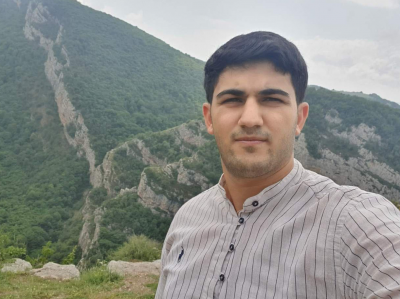 Murad Agayev - a young ballet dancer of the Azerbaijan State Academic Musical Theater, a volunteer soldier of the Patriotic War, participated in the event held in Shusha with the organizational support of the Ministry of Culture.
M. Agayev, who passed the battle route from Fuzuli to Shusha and was awarded the "For the liberation of Lachin" medal, showed the cultural workers the battlefields he passed during the Patriotic War and shared his memories with them.
"I am stepping on the holy land of Shusha for the first time after our 44-day Victory Day. Every inch is precious... It is not so easy to talk about. I lost my comrades-in-arms in our war of justice... No matter how hard and difficult days we lived, at the same time, those days were glorious. As a member of the Academic Musical Theater family, I am proud to volunteer for the battles…
All the awards I have received so far are valuable, but to feel that I am in the land of Shusha is completely different. Words cannot explain my feelings, my joy and anger are mixedtogether.
Now those moments pass through my eyes like a movie tape... May God have mercy on all our martyrs and heal our veterans.
I am proud of our martyrs, who wrote our history of victory, being the illuminator of our theater, Aliagha Mammadov.
Murad Aghayev, who graduated from the college of the Baku Choreography Academy, has been working at the Academic Musical Theater since 2015. So far, he has participated in most of the plays in the theater's repertoire.
After the great victory, he was entrusted with the position of assistant ballet master in the theater.
For his bravery in the Patriotic War, M. Agayev was awardedthe "For the liberation of Lachin" medal by the order of the head of the country, Commander-in-Chief Ilham Aliyev dated June 24, 2021.