Hajibaba Baghirov - 90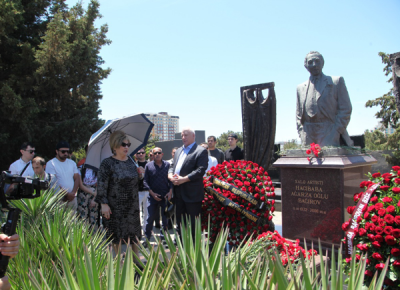 Today is the 90th anniversary of the great comedian, prominent Azerbaijani theater and film actor, People's Artist, Order of Glory Hajibaba Baghirov, in connection with which the Azerbaijan State Academic Musical Theater is holding a series of events.
The staff of the theater first visited the grave of the late actor in the Alley of Honors and laid wreaths and flowers.
Director of the Academic Musical Theater, Honored Art Figure, Doctor of Philosophy Aligismat Lalayev, Director of the Theater Sector of the Ministry of Culture Konul Jafarova, People's Artists Afag Bashirgizi, Fatma Mahmudova, director, Honored Art Worker Jamil Guliyev, Honored Artists Alakbar Aliyev, Chingiz Ahmadov Actor, Presidential Award winner Hussein Alili, well-known representatives of culture and art spoke about the life and work of the late artist and shared their memories about him.
Today at 19:00 in the Academic Musical Theater will take place performance "Whereas I am old, I am worth to thousand young men" (F.Sujaddinov, T.Valiyeva), devoted to the 90 anniversary of Hajibaba Baghirov.
This play was prepared years ago on the 75th anniversary of H. Baghirov's life. Shortly before the premiere of the play, due to the death of the actor in October 2006, in 2007 the play "Whereas I am old, I am worth to thousand young men" was presented as a gift to those who loved the memory of the late artist.
The play, rich in unexpected and interesting situations, has been met with great interest since its inception and will be shown for the 81st time today.
Before the performance, the head of the Literary Department of the Musical Theater, Honored Cultural Worker Telli Panahgizi will talk about the life and work of Hajibaba Baghirov.
It should be noted that before the performance in the lobby the actor played in the musical comedy as "Mashadi Ibad" at "Whereas I am old, I am worth to thousand young men", (1998), Atakishi in "Banker's Bride" (2002), Ali Ayrizade in "Man of man" (2005), "92 minutes of laughter" The concert-composition will also feature stage costumes of Songulu (2004).