The Indian Embassy awarded the ballet dancers of the Academic Musical Theater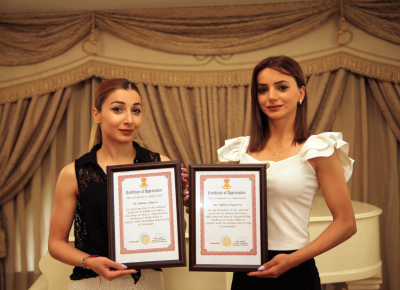 Ballet dancers of the Azerbaijan State Academic Musical Theater Aynura Asgerova and Rabiya Aliyeva were awarded for their active participation in the event on "Bollywood dances and songs" held by the Indian Embassy in Baku.
The audience also appreciated the performances of ballet dancers at the evening organized at the Azerbaijan University of Languages.
I should note that both ballet dancers have been working at the Academic Musical Theater since 2012.
During this time, they took an active part in many theater projects, various stage productions, as well as at the international events.
Performer of national and world dances of Azerbaijan, young teacher Aynura Asgarova graduated from the "Folk Dances" department of the Baku School of Choreography in 2012. In 2016-2020, she studied at the Baku Academy of Choreography. She was a performer of such interesting projects of the Musical Theater as "Flamingo", "Rock n-roll" and "Beauty" dance.
Rabiya Aliyeva graduated from the Baku Folk Dances Department of the Baku School of Choreography in 2002-2013. In 2018, she was admitted to the Baku Academy of Choreography. She is currently a 5th year student.