The Musical Theater will go to the International Theater Festival in Belarus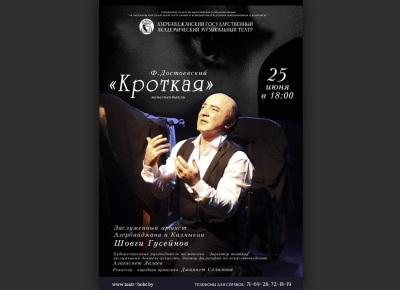 On June 23-27, Belarus's Bobruisk Mogilev region will host the International Theater Festival "Wreath of Friendship".
Azerbaijan State Academic Musical Theater will represent our country at the festival with a mono-performance of the same name based on the fantastic story "The Meek" by world-famous writer Fyodor Dostoyevsky, which is attended by prestigioustheaters from around the world.
Director of the theater, Honored Art Figure, Doctor of Philosophy Aligismat Lalayev, Honored Artist, Laureate of the "Zirve" award Shovgi Huseynov and sound director of the theater Mahammad Mammadov will take part in the visit with the support of the Ministry of Culture of the Republic of Azerbaijan. The festival will feature a mono-performance "The Meek" directed by People's Artist, Order of Glory and Honor, Presidential Fellow Jannat Salimova, the author of the idea is Honored Art Figure, Doctor of Philosophy in Art Criticism Aligismat Lalayev. The only hero of the play - Shovgi Huseynovwill be on the stage.
The performance will be presented to the festival participants on June 25. This is the second trip of "The Meek" abroad. The play was previously successfully staged at the Fajr International Theater Festival in Tehran in February this year.
The Azerbaijani delegation will also take part in various meetings and events on the development of cultural ties between the countries in accordance with the program of the international project, and bilateral agreements on cooperation will be signedbetween the Academic Musical Theater and other art institutions.