The "American son in law" returns to the stage of the Academic Musical Theater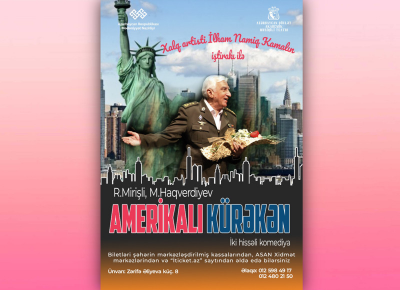 For the first time after a three-year break, June 18 at 7 p.m.
The performance "American son in law" will be performedagain at the Azerbaijan State Academic Musical Theater.
People's Artist, Professor Ilham Namig Kamal of the Order of Glory, directs the play, based on the play of the same name by writer-dramatist, Honored Cultural Worker Marat Hagverdiyev and with the music of prominent composer Ramiz Mirishli.
It should be noted that the 55th performance of this play, which has been met with great interest since its first staging (May 29, 2010), will be performed by a new cast.
Along with People's Artist Ilham Namig Kamal, People's Artist Fatma Mahmudova, Honored Artists Alakbar Aliyev, Akbar Alizade, Igrar Salamov, actors Rasmiyya Nurmammadova, Samadzade Khasiyev, Gultaj Alili, Ruslan Mursalov, Gulnara Azizova, Nigar Garayeva, and Mehriban Rajabova will play the roles in the play.
Anyone who wants to watch the performance "American Groom" can get tickets at the centralized ticket offices of the city, "ASAN service" centers and "Iticket.az". Collective orders are accepted.