Ballet dancer of the Academic Musical Theater, fighter - Murad Agayev was awarded!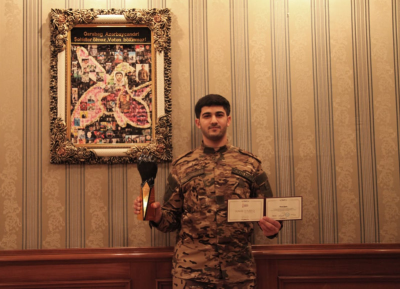 Ballet dancer of the Azerbaijan State Academic Musical Theater Murad Agayev was awarded the Emedia Group's "Iron Fist" National Award for his bravery in preserving the independence and territorial integrity of the Republic of Azerbaijan in the Great Patriotic War.
Murad Agayev, who fought from Fizuli to Shusha, thanked Emedia Group and the theater staff for the award:
"As a citizen, especially as a member of the Academic Musical Theater family, I am proud to have participated in the battles voluntarily. Therefore, I attribute this award to our team. I do not say these words in vain. Members of our team were always with our families in the rear during the war, were active on the back front. Aliaga Mammadov, the lighter of our theater, was martyred ... I am proud of all our martyrs. In this real war, for the sake of our sacred cause, we have been able to return to the iron fist, to demonstrate our solidarity to the world! Our Great Victory is a celebration of our unity. May God have mercy on all our martyrs and heal our veterans"
It should be noted that Murad Agayev, a graduate of the Baku Academy of Choreography, has been working at the Academic Musical Theater since 2015. He has participated in most of the theater's performances so far.