Mono-performance premiere at the Academic Musical Theater - "Meek"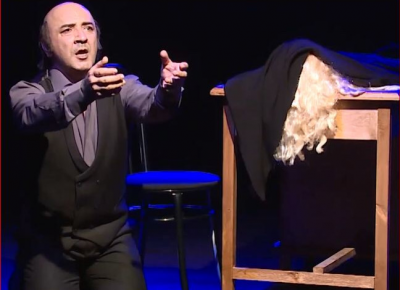 On December 23, at 19:00 in the Azerbaijan State Academic Musical Theater will take place the premiere of the monologue of the same name based on the fantastic story "Meek" by the outstanding representative of world literature Fyodor Dostoevsky. The stage director of the play is People's Artist,owner of Presidential Fellowship, awarded the Order of Glory and Honor - Jannat Salimova, the author of the idea is Honored Art Figure, Doctor of Philosophy in Art History - Aligismat Lalayev.
Shovgi Huseynov - the translator and the only protagonist of the play, who is Honored Artist of Azerbaijan and Kalmyk (Russia), winner of the Golden Dervish and Zirve awards; Gabil Gozalov is the stage and costume designer, and Elmaddin Dadashov is assistant of director.

In the mono-play, which combines the meanings of the deepest layers of life, various events arising from the cruel laws of time are shown in all their nakedness.
The play uses the symphonic work "Flight" by world-famous composer Alfred Schnittkel.