Premiere at the Academic Musical Theater - "Bride for five manats"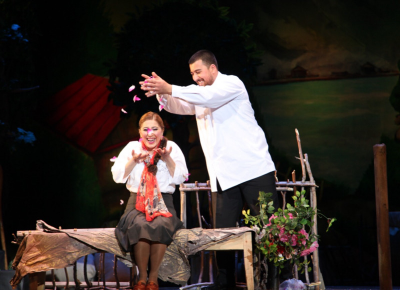 On December 6-17, at 19:00 in the Azerbaijan State Academic Musical Theater will take place the premiere of the retro comedy "Bride for five manats" (S.Rustamov, M.S.Ordubadi) which has not left the theater's repertoire for many years.
Director, Honored Art Worker Askar Asgarov, will stage this performance at the old theater that living its 112th season.
From 1940 to 1994, the play, which reflects the theme of daily life in the plot line, created a pleasant meal with unexpected and funny situations, but with deep shades of meaning, was repeatedly staged by various directors on the stage of the Academic Musical Theater and was well received by theatergoers.
People's Artists - Ilham Namig Kamal, Fatma Mahmudova, Honored Artists - Alakbar Aliyev, Nadir Khasiyev, Igrar Salamov, actors - Moyla Mirzaliyev, Elkhan Ismayilov, Guljahan Salamova, Ulviya Aliyeva, Mehriban Zaliyeva, Turkel Tarigpeyma, Samadzade Khasiyev, Gulnara Azizova, Elnara Nagdaliyeva, Ibrahim Alizade, Ruslan Mursalov, Nigar Garayeva will participate in the show.
Honored Art Worker- Fakhraddin Atayev is the conductor of the funny performance, which includes also orchestra, choir and ballet artists. The directing choreographers are Honored Artists - Zakir and Leyla Agayevs; the choirmaster is Honored Artist Vagif Mastanov; the directing artist is Honored Artist Nabat Samadova; the conductor is Samad Suleymanli; the concertmaster is Fidan Babayeva and the director assistant is Tamilla Aslanova.
It should be noted that the play, which premiered on National Theater Day in 2020, was postponed due to a pandemic.
After a long break, tickets for the long-awaited performance of "Bride for five manats" can be purchased at all box offices of the city, "ASAN service" centers, as well as on the website "Iticket.az"